THUNDERALLY is a small home based kennel that began with Great Danes over forty years ago. The Thunderally name was permanently registered to Carol Gray by the Canadian Kennel Club in 1978. Gord Williams bought his first Great Dane from Carol in 1979. Thunderally became associated with Bull Terriers in 1997 with the purchase of Ch Starman Thunderally Nora, after 32 years in Great Danes. As breeders in both Great Danes & Bull Terriers Carol Gray & Thunderally have always been known for exceptional temperament and championship quality. Thunderally has had many accomplishments in the show ring and the dogs on this site represent only the most recent success.

Carol & Gord are members of the following Clubs and are active supporters of Bull Terrier Rescue on an international basis. They stand actively opposed to any form of Breed Specific Legislation. Carol & Gord are founding members of the newly organized Miniature Bull Terrier Club of Ontario. Please visit www.minibullyclub.com for more information.
-- The Canadian Kennel Club
-- Miniature Bull Terrier Club of Ontario
-- Canine Federation of Canada
-- The UKC of America
-- Bull Terrier Club of America
-- The Bull Terrier Club (UK)
-- Miniature Bull Terrier Club of America
-- The Miniature Bull Terrier Club of the UK
-- Great Dane Fanciers Association (Life)
-- Seaway Kennel Club
-- St. Catharines Kennel & Obedience Club
-- Canadian Dog Judges Association
-- Barn Hunt Association, LLC



Carol Gray is a licensed CKC, AKC & FCI judge for the Bull Terrier & Miniature Bull Terrier Breeds as well as the entire Terrier Group. She is licensed for the Terrier Group and The Working Group. She is now licensed to judge the Hound Group and the Working Group. She has been approved by the Bull Terrier Club of America as a ROM Breeder Judge and can award ROM points internationally at any level. Carol is recognized as an International Bull Terrier & Miniature Bull Terrier Breeder Judge and has judged Bull Terrier & Miniature Bull Terrier Specialty Shows in Canada, America, The United Kingdom, The Netherlands, Ireland and Australia. Carol also holds a CKC permit to judge the Hound Group in Canada. Her complete resume is available on the Canadian Dog Judges Association member listing. Carol is an active participant in the Canadian Kennel Club Judges Education Program.
Thunderally News
In 2023 Casper was SELECT DOG at the Westminster Kennel Club defeating all but the Number Two ranked MBT in America.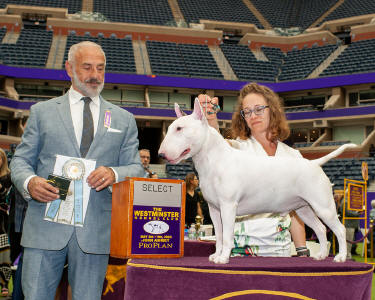 In 2022 CASPER (MBISS, GCH Thunderally's Mischevious Casper continued his winning ways achieving his American Championship in ten just shows. STARR (RBIS CH Thunderally's Shining Starheld the Thunderally Tradition finishing Number One MBT in Canada for the year while her sister MOCHI (Ch Thunderally's Cracklin Rose finished Fourth. Great year for the puppies.
In 2021 CASPER (MBISS GCH Thunderally's Mischevious Casper) continued his winning ways to once again become the Number One MBT in Canada. In August Thunderally welcomed six puppies into the family.(Stanley, Larry, Lola, Mouchie, Starr and Panda. Proud parents were Mom Jersey and Dad Rizzo. The puppies are all placed in both existing and new additions to the Thundertally family. Exciting News for Thunderally in the 2022 show scene.
In 2020 the Thunderally Puppies got off to a great start until the the Covid 19 Pandemic struck the Dog Show World. Casper ( MBSS GR CH, CH Thunderally's Mischevious Casper) won three Specialties including the Alberta Terrier Classic in August, the Dorchester Regional MBTCC MBT Specialty in October and the Inaugural MBTCC MBT National He is currently ranked as the Number One MBT in Canada. Several of Caspers litter mates are Nationally ranked too.
In 2019 NORMAN (Ch.Thunderally's Stormin Norman CGC) sired two litters of Championship level puppies. One with Axelbelle in Ontario and one with Amarantine in Saskatchewan. These puppies began their careers at the 2019 MBTCO MBT Aurora Specialty JERSEY (Thunderally's I'm So Pretty) was Best of Winners for first CKC Points. CASPER (Thunderally's Mischievous Casper) was Best Baby Puppy.
In 2018 ELI ( RBIS, MBISS,MBPIS, GCH THUNDERALLY'S PUTIN ON THE RITZ) continued on his winning ways in limited showing with several Group placements and achieving Reserve Best In Show at the St Catharines Kennel Club in August. Norman (CH THUNDERALLY'S STORMIN NORMAN, RATI, CGC) continues to work on his Barn Hunt Trials.